From my first Rock 'N' Roll concert to present day, one word I would never use to describe the experience is promptness. There's the slackers who are too busy with nothing to get their gear set up and rock out and the prima donnas who think the whole world is their stage, and live to make the crowd impatient. There's the Rock 'N' Roll party animals who are too drunk to care about time, and even the regular Joe's who play to a crowd of five on a Friday night, have learned the fine art of making the crowd wait. Yet, the 2008 Pitchfork Music Festival, a model of efficiency, kicked off promptly at 6 o'clock, just like the schedule promised.

Mission of Burma were fist on the Connector Stage, and as alluded to above, wasted no time in kicking off Pitchfork 2008, but being the swell guys they are, they treated the crowd to a few bonus cuts before playing their classic 1982 album VS.
As was the case when I saw Mission of Burma two years ago in Cleveland, they sounded incredible. With the rash of band reunions happening these days, it's easy to get disillusioned with all the rock vets getting the band back together for another go round. Make no mistake about it, Mission of Burma, are doing it for all the right reasons, the only reason, for the music. They may look a little older, and dress like your dad dresses on casual Fridays, but Roger Miller, Peter Prescott, Cliff Conley were never big into the fashion of Rock 'N' Roll. Just watch those bonus DVD's that came with this year's Mission of Burma's reissues, and you'll see three normal dudes, considerably younger, normal dudes, who were all focused on the music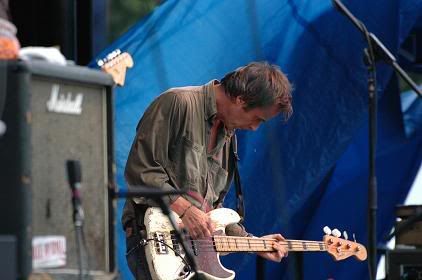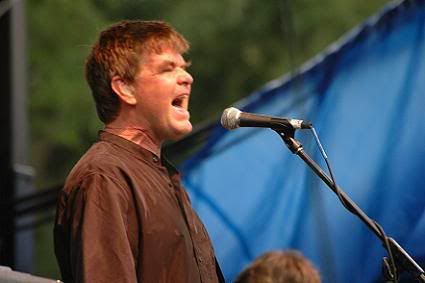 As for their actual performance, highlights included, "Trem Two," which is still my favorite Mission of Burma song after all these years, an extended version of "Weatherbox," where Prescott injected the classic Suicidal Tendencies line, "All I wanted was a Pepsi" during one of their noisy breakdowns, and their classic anthem "That's How I Escaped My Certain Fate."
All photos by Jeff Sierputowski unless otherwise noted.
More photos can be found here