The final two bands on Friday night provided a stark contrast in styles and attitudes. First, you had the gee, aww-shucks we're in a rock band and we're going to play a few songs for you tonight, demeanor of Sebadoh, who were to be followed by the larger than life personas of Chuck D, Flava Flav, and Public Enemy.
Sebadoh's classic lo-fi style, perfected on albums like Bubble and Scrape (which they performed in its entirety), isn't really one made for the big stage. Dive bars with sh*tty sound, living rooms, and basements, now that's where Sebadoh sounds their best, but a headlining act on the first day of a major festival, not so much. At times Lou Barlow, Eric Gaffney, and Jason Lowenstein seemed uncomfortable, or disinterested, with all the attention. Consequently, there was way too much of this: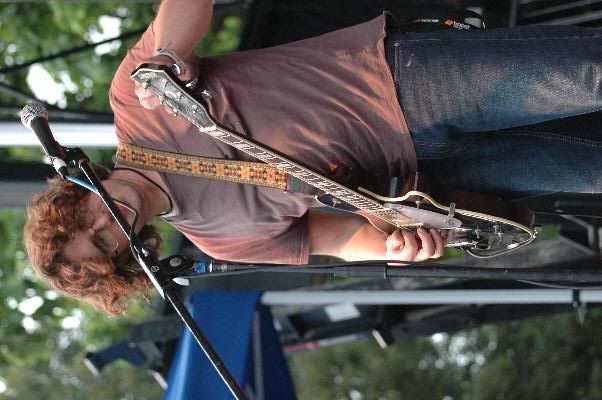 And not enough of this: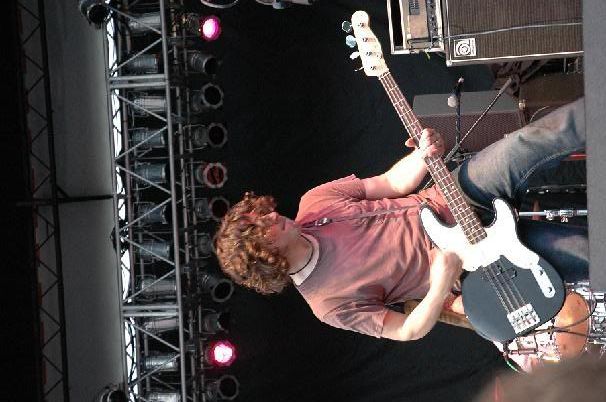 So, it was no surprise when The Bomb Squad mistakenly thought Sebadoh had finished their set, and had begun to hype the crowd for Public Enemy. Lou Barlow, the lovable slacker he is, shrugged off the gaffe on the Squad's part, and quietly finished his last two songs.
Although it's been twenty years since Public Enemy released the seminal hip-hop album, It Takes a Nation of Millions to Hold Us Back, the music and the message contained in that set sound as relevant as ever. Poverty, war, high gas prices, a sluggish economy, inequality: these are all problems affecting millions of Americans, of all races and all religions and who better to wake up the collective consciousness than the one and only Public Enemy. Did it matter that those fists in the air, fighting the power were awfully light, and/or white? Not to Chuck D and Flava Fav. We're all in this fight together.
Public Enemy sounded remarkably tight, and did their best to keep their focus on celebrating their landmark album. However, Flava Fav, being Flava Fav, couldn't pass up his chance at self promotion, and when he reminded the crowd who's the biggest reality TV star in the world, and who has a new program airing on Wednesday nights, he was met with a smattering of boos. It was the sole misstep by the group during an otherwise extraordinary performance.
All photos by Jeff Sierputowski unless otherwise noted
More photos can be found here