Day two of the 2008 Pitchfork Musical Festival started with rain, lots of it, Boban& Marko Markovic Orkestar, Titus Andronicus, A Hawk and a Hacksaw, and Jay Reatard, who took the Aluminum Stage shortly after 1:30 with a crowd covered umbrellas and rain slickers, and everything electric covered in plastic, lots of it. God bless the Time Out Chicago girl who was passing out free umbrellas.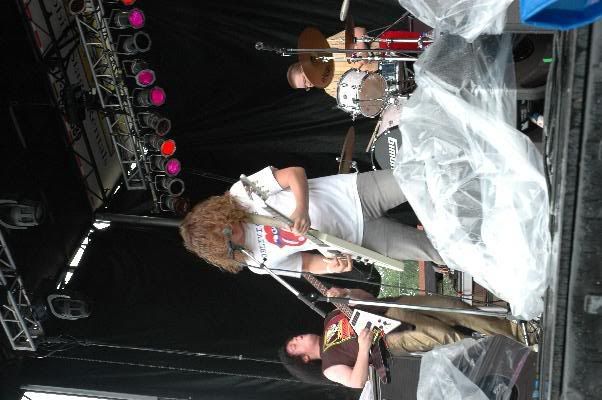 Jay Reatard's time on the big stage was far from your typical Reatard set. First of all, he was on his best behavior. There was no crowd baiting, no name calling, and very little cursing. When Reatard played Cleveland last year, every song was introducted with MF this and MF that. Saturday, he kept his mouth clean with the exception of a couple extra b*tches added to the lyrics of "See Saw," and some extra commentary during "Greed, Money, Useless Children," where he couldn't help but scream, "F*cking useless brats." Consequently, there were no ugly crowd scenes like the one witnessed in Toronto earlier this year.
Also out of character for a Jay Reatard show was the length of his set. Whereas most acts playing a festival shorten their sets to fit in their 30 or 40 minute slot, a 30 minute slot for Reatard meant an extra 10-15 minutes of rock. Remember, this is a dude who only knows how to play fast and is typically done with his days work in 15-20 minutes.
Still, if you came to Chicago to see Jay Reatard, you would not have been disappointed. The cursing and crowd baiting is cool and all, but what people really want from Reatard is to see those flowing mop tops and flying v's in action, cranking out supercharged slices of hyper melodic garage punk. Reatard and band satisfied many a fan by hitting some of the sweeter cuts from Blood Visions including, "Nightmares," "Oh, It's Such a Shame," "Not a Substitute," and "Fading All Away," as well as the single "Hammer I Miss You" and the b-side, "An Ugly Death." Plus, with the extra time on the big stage, there was some extra shredding. During "An Ugly Death," as well as set closer, "Let It All Go," Reatard and company unleashed their inner metal men and jammed like I've never seen them jam before.