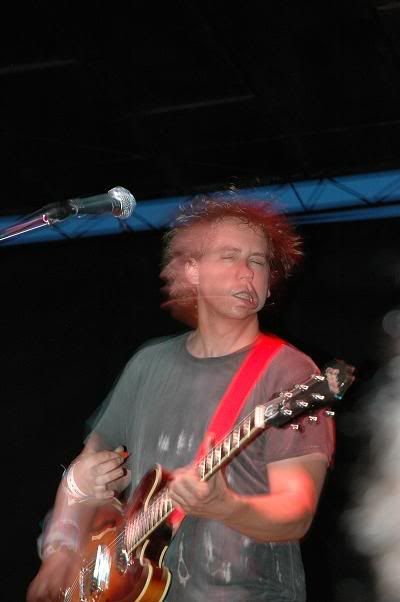 The most intense and the most punk rockingest set of day two of the Pitchfork Music Festival, belonged to the LA noise rock duo, No Age. Although I've often seen No Age compared to My Bloody Valentine, albeit with a pop punk edge, it's a comparison that never made much sense to me. Until yesterday. Hearing No Age live was like camping out at Hopkins Airport next to the arrivals and departures, and blasting your stereo at full volume, barely being able to make out a melody. From his first note, guitarist Randy Randall was head banging so hard, I feared his neck would snap right off. And that guitar sound! With reverb, delay, echo, feedback, distortion, everything set to eleven, he made enough noise for eleven guitarists. When Randall and drummer/vocalist Dean Sprunt hit that big riff in "Teen Creeps," you know the one that goes, "Duh duh duh duh da da duh," the one that would make Beavis and Butthead thrash on their sofa, the crowd in the pit went absolutely ape sh*t.
Yet for No Age, being the most punk rockingest band of the day, did have its drawbacks. Sprunt pounded his drums so hard that an extra sand bag had to be brought out for the front of his bass drum. It didn't help much. Later, mid way through the set, Randall's guitar just gave out. It was likely due to bad wiring or something like that, but I'd like to think it was from a shredding overload. Finally, when LA's Abe Vigoda joined Randall and Sprunt for Black Flag's "Nervous Breakdown," for what should have been a special moment to close the set, things got really punk. Abe Vigoda were TRASHED, and they quickly lost interest in rocking out, opting instead to ditch their gear and jump in the pit. And while it wasn't the ending No Age were hoping for, with the chaos, confusion, loud, sloppy Rock 'N' Roll, and complete drunkenness of their special guests, it was certainly punk.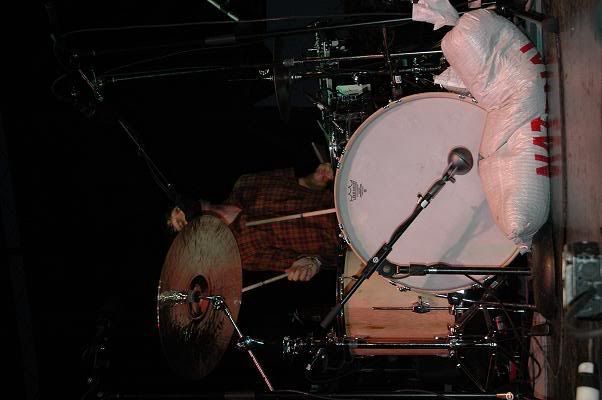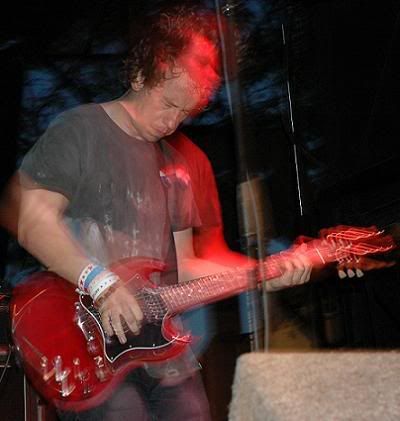 All photos by Jeff Sierputowski
More photos from Pitchfork 2008 can be found here.