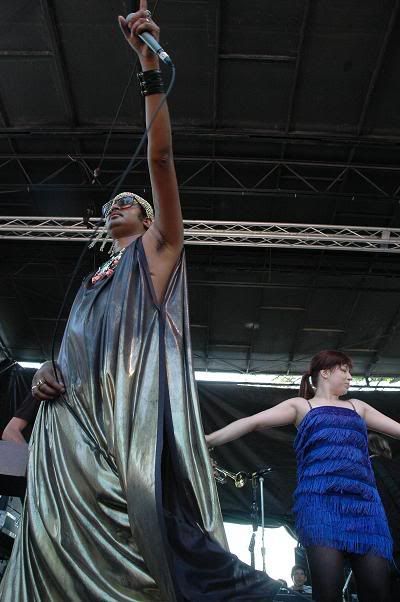 King Khan is a showman whose stage act would be unrivaled on most days. Today, he happened to be up against Tim Harrington and Les Savy Fav. Remember that story about the church, and god, and the devil's music? Well, by mid-afternoon, the B stage was running half an hour late and that meant the two premier frontmen of Pitchfork 2008 were going head to head for the attention of the Pitchfork crowd. On one stage you had a man who is the Indian James Brown and Elvis rolled into one larger than life persona, King Khan, the leader of the soul punk ensemble, King Khan and the Shrines. While on the other stage was Les Savy Fav and Harrington, a man whose antics had entertained many festival goers throughout the weekend. Saturday, he was spotted giving two dollar haircuts. Sunday, he was giving $10 massages. Then, later in the afternoon, he was seated on a blanket near the food vendors, trying to sell empty cd cases and slightly damaged Cliff Bars in order to make a couple bucks.
While state side performances by King Khan have been rare throughout the years, it was only a matter of minutes, no seconds, before he had the crowd squarely on his side. When Khan implored the crowd to toss their trash at the stage before his second number, the sky opened up and poured recyclables. During "Welfare Bread," he asked the crowd to wave their money in the air, and wouldn't you know it, there were George Washington's as far as the eye could see. Hell, Khan, could have instructed the crowd to take of their pants and wave their trousers in the air, and I'm sure they would have obliged. And oh yes, there was music. Soul, gospel, garage, and rhythm and blues, accompanied by a horn section and complete with a go-go girl. He had the crowd gettin' down, freakin' out, and sweatin' up a storm.
And about Harrington and Les Savy Fav? After King Khan finished his dirty story about making sweet love to a nubile, dark-skinned woman, a story where he climbed all inside her you know what, but was gentleman enough to take off his shoes, and the band funked out for one last time, I made my way back to Stage C, and I'm pretty sure Harrington was buck f*cking naked.
All photos by Jeff Sierputowski
More photos from Pitchfork 2008 can be found here.