Did I mention how hot it was on Sunday? It was really f'n hot. The combination of the heat, M Ward singing lullabies on the C Stage, and then, Spiritualized taking their time to start their set on the A Stage, made me this blogger awfully sleepy. Not even an all-natural Cliff Bar, could keep me on my feet. Then, I heard it. A faint buzz coming from the stage. The buzz slowly grew louder and louder, until Jason Pierce and Spiritualized finally arrived on stage and unleashed a fury of swirling, spaced out guitars. The force of "You Lie, You Cheat," was strong enough to rumble guts 20 rows back.
Although Spiritualized latest release, Songs in A & E, is one of the softer discs in their catalog, that didn't stop J Spaceman and company from laying down big waves of sound. Watching him on stage, one got the feeling that he couldn't wait to step on the effects pedal, transforming songs like "Sitting on Fire" from quiet, introspective numbers to rumbling, introspective numbers. Watching the faces in the crowd, you could tell they were in awe. Sure, they could have been in a drugged out bliss, but I don't think it was that. The air didn't smell like the air during Public Enemy. These people were transfixed on every move Spaceman made.
Still, after a while, the new material wasn't enough. I'm sure many in the crowd shared the same sentiment as the dude who took advantage of the quiet time between songs to scream, "Play some old stuff!" Patience, my man, we're getting there.
Now, when Spiritualized, did get to the old stuff, like "Come Together," from their landmark album, Ladies and Gentleman We're Floating in Space, that's when the festival crowd really got going. Once the band hit their sweet spot, that one squarely between classic acid rock, and modern British psychedelic rock, the crowd raised their arms in the air, old dudes swayed with their eyes closed, taking in the overwhelming sound of guitar, and young ladies danced in tight spaces wherever they could find room in the firmly packed audience, making it one of the most transcendent moments of the entire weekend.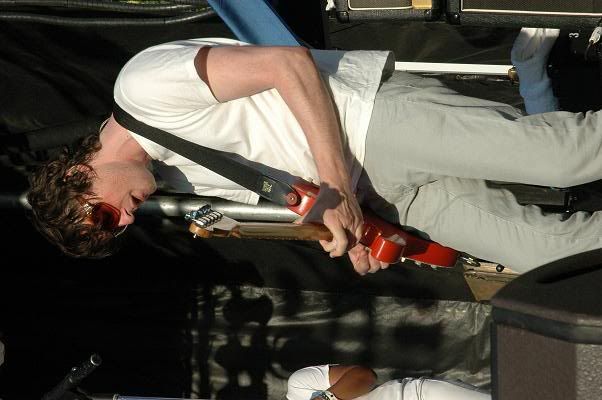 All photos by Jeff Sierputowski
More photos from Pitchfork 2008 can be found here.