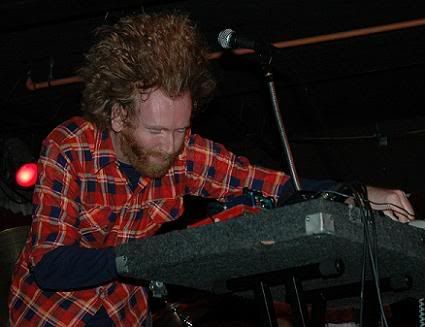 Receivers, the latest release by the Brooklyn based band Parts and Labor, showcases a new, kinder and gentler band. Of course, those words, kinder and gentler are relative. Their previous release, Mapmaker, contained an explosive mix of haywire electronics, abrasive effects, and surprising punk anthems. In between Mapmaker and Receivers, Parts and Labor principals, BJ Warshaw and Dan Friel, each released solo albums which toned down the kinetic chaos for simpler melodies, man-machine drummer, Christopher Weingarten departed the band, was replaced by Joe Wong, and a fourth member was added in guitarist Sarah Lipstate.
These changes in attiutde and personnel cannot be understated. Whereas Weingarten was capable of playing insanely complex rhythms at heart attack speed, Wong's strength is in his precision and steadiness, and with Lipstate now on guitar, Friel and Warshaw no longer have to pull double duty on electronics and guitars. Friel can give his full attention to he knobs, switches, and keyboards, and Warshaw can focus on the bass. Consequentially, there's more open space in their sound than ever before. Melodies no longer appear out of a storm of electronics, instead, they're the focus, and bleeps, buzzes, and squawks are the accompaniment.
Material from Receivers was featured prominently early in the set. On "Satellites," "Nowhere's Nigh," and "The Ceasing Now" Parts and Labor sounded more crisp and more clear than ever before. Wong was very composed behind the kit, while Lipstate's guitar cut deftly through Friel's stack of electronics. Even their gear appeared cleaner, as the stage no longer looked like an open invitation to the fire marshal to be a d*ck and shut a show down.
Midway through the show, Friel explained how the Cleveland show was the first stop on a mighty long tour for the band, and it was just the second time the new band was out performing the new album. The nature of their new material, a few beats slower, and considerably less frenetic, dictated a less energentic performance. When Warshaw was required to twist knobs and play bass, he sat Indian style on the stage with the mic pointing down to the ground. It was a far cry from past shows, where both Warshaw and Friel manned the stage like mad scientists, with Weingarten wildly flailing his arms and sweating buckets behind his kit.
Aditionally, it seemed as if the band were still figuring out how to integrate the back catalog into their new lineup. Lipstate's guitar came in awfully hot during "The Gold We're Digging" and obscured Friel's electronics. They would fare much better later in the set when they closed with two more songs from Mapmaker, in "New Crimes" and "Fractured Skies," as Wong capably replicated Weingarten's old rhythms, and Lipstate was able to add new depth and texture to those familiar songs. It may take a couple more dates before the full power of this new line-up is fully realized, but when they do work out all the kinks, there's little doubt that this shift in dynamics will be a positive step for the band.
Cleveland's National Suicide Day, preceeded Parts and Labor, and covered the crowd in heavy, heavy blues, and doom. With Lawrence Daniel's vocals, lending a repentant, almost spiritual edge, this wasn't a sound you'd sell your soul for, rather, it's what you would hear after the blood has dried on your deal with the devil, and you start to realize the real gravity of your situation.
Parts and Labor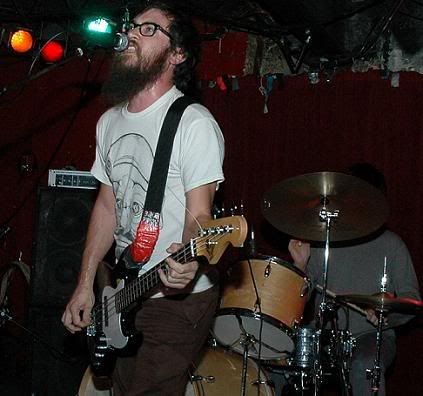 National Suicide Day