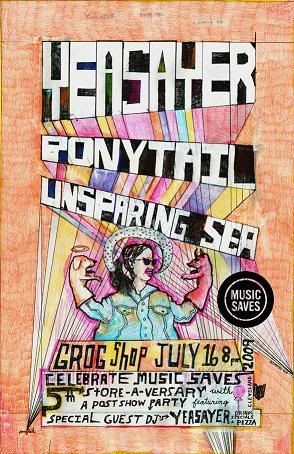 Melanie Hershberger and Kevin Neudecker are great people, have great taste in music, and are great friends, and they just happen to be celebrating a big anniversary tonight. Their little music store that could, Music Saves, turns five today, and to celebrate they're hosting a special show at The Grog Shop with Yeasayer, Ponytail, and Unsparing Sea, and a post-party at the B-Side, beneath the Grog Shop, featuring a dj-set by headlining act, Yeasayer.
To put their success in perspective, just ask yourself, how many stories have you read over the past decade about the decline of the music industry, and the death of record stores? Next, consider what Waterloo Road in Collinwood was like when Music Saves first opened in 2004. I'll help you out, there was The Beachland, Music Saves, and not much else. Now, look at Waterloo. In those five short years, it's transformed itself into one of the premier destinations for music and art in the City of Cleveland. I'm not saying Kevin and Melanie are responsible for a neighborhood's rebirth…but, there's no denying that the success of their store, and their belief in the neighborhood played a definite role in its renaissance.
Yeasayer – Tightrope (Live)
Ponytail – Beg Waves (Live)

And that's not all. The Five Year Store-A-Versary party continues next weekend at Music Saves and The Beachland. Arrive early for a 7 o'clock in store performance by Ramona Falls (A new Menomena side-project) and stay late for The Veils and Foreign Born at the Beachland and another after show party, this time with The Veils on the turntables.