If you came out to the Beachland Ballroom Saturday night hoping to hear the blues, you'd have left the venue damn well p*ssed. In spite of the American roots rock pedigree of Drummer's bassist, Pat Carney, aka, the drummer for the Akron blues, duo, The Black Keys, the assembled super-group of drummers who comprise the band, Drummer, stayed comfortably clear of anything resembling the blues, instead treating the crowd to a set of modern indie rock in the vein of Wolf Parade, complete with nerdy, prog-rock flourishes.
Jon Finley (Beaten Awake, Party of Helicopters) was intent on stretching the range of his rough, scratchy voice. Jamie Stillman (Party of Helicopters, Teeth of the Hydra) wanted to shred. Steve Clements (Houseguest) geeked out on his keyboards, Greg Boyd drummed (someone in a band of former and current drummers had to do it), and Carney, here the bassist, was content to place himself in the rear of the band and out of the spotlight. And somehow it worked. Maybe not the way in which people expected Drummer to work, and maybe not in the vein of a true super-group, rather Drummer performed much in the same way the band came together, as five friends from the Akron/Kent scene jamming for the sheer pleasure of it.
Perhaps the most telling moment of the night came mid-set, between "Diamonds to Shake" and "Feel Good Together" when Finley questioned the audience, "Are we having a good time?" It was met with a mild response and quickly redirected back to the band, to which he replied without a second of hesitation, "F*ck yeah, dawg." Even if Drummer weren't quite what you expected, you have to admit it was a good time seeing all the boys in the bands we've watched for the past ten years, together on the same stage, playing music for the purest reason possible, enjoyment.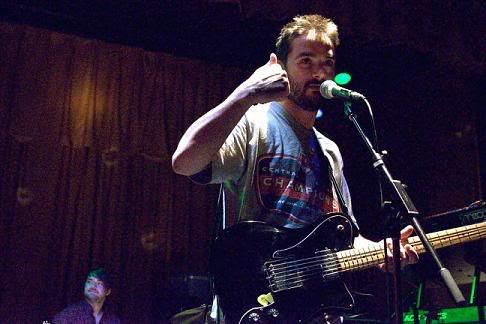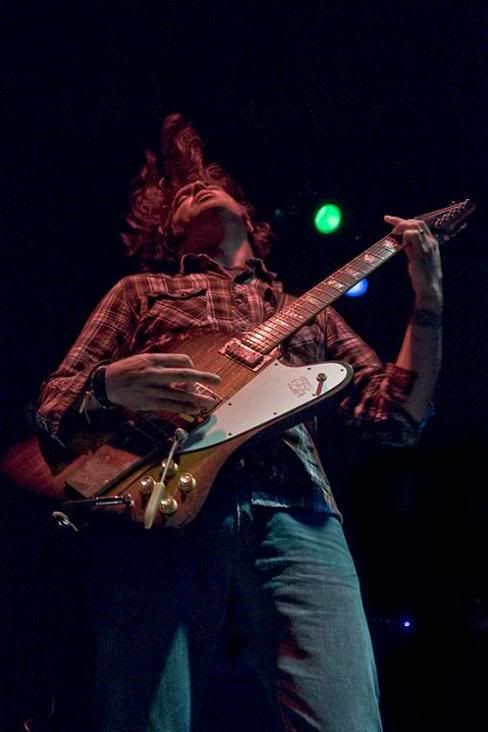 —
Cleveland's , Other Girls, preceded Drummer, and at first glance, they appeared to be the answer to the indie rock fashion riddle, "What do you get when you cross a mesh-back hat and a new wave flop top?" A Flock of Truckers? Drive-By Seagulls? Jesus and Uncle Jessee Chain? The answer, unexpected to those who haven't seen the mismatched styles of Other Girls in action before Saturday night (The bassist, sporting the meshback look, and the guitarist on the opposite side of the stage, sporting the flop-top) , was power pop. It wasn't power pop in the Seventies sense of the genre, but a more nuanced form, drawing bits and pieces from modern acts as diverse as Interpol, The Walkmen, and Band of Horses. Numbers like "Sleep a Year," bounced and swayed with energy, while the "Long Con" proved that new-wave inspired pop can be channeled into more lively directions than minor-key moping. Their set wasn't without the occasional misstep, however. Lead singer, Jonah Oryszak's decision to take "The Facility" down an octave, sapped one of their record's brightest moments of its bristling pop. Luckily, it wasn't a set killing miscalculation, with the woozy ballad, "White Rabbit," and its wandering guitar tones, providing a well placed, set-ending highlight.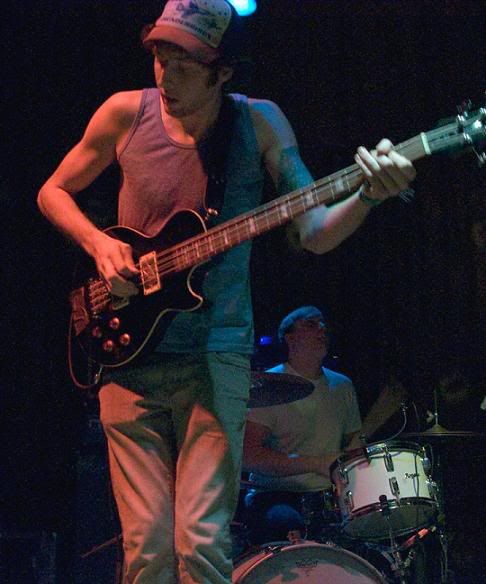 —
No, I checked my calendar, and it wasn't opposite night at the Beachland Ballroom, still the most energetic, and ultimately, the most enjoyable set in the big room belonged to the night's first band, Royal Bangs. Using a combination of riveting, synth waves, dance-rock beats, and abstract guitar riffery, the Knoxville, Tennessee five piece had a sound which was both comforting and unique. Vocalist/keyboardist Ryan Schaefer had the pipes of a bluesman, while guitarists Brandon Biondo and Sam Stratton gave hints that they could capably play in either a revival rock band or a metal band, but instead chose to chop their licks into little bits. The result was quirky, slightly off-center, and deceptively intelligent rock music, alternately skipping with blips and bleeps and pulsing with thick, layered blasts of sound.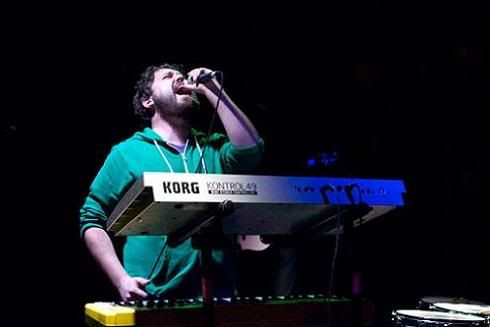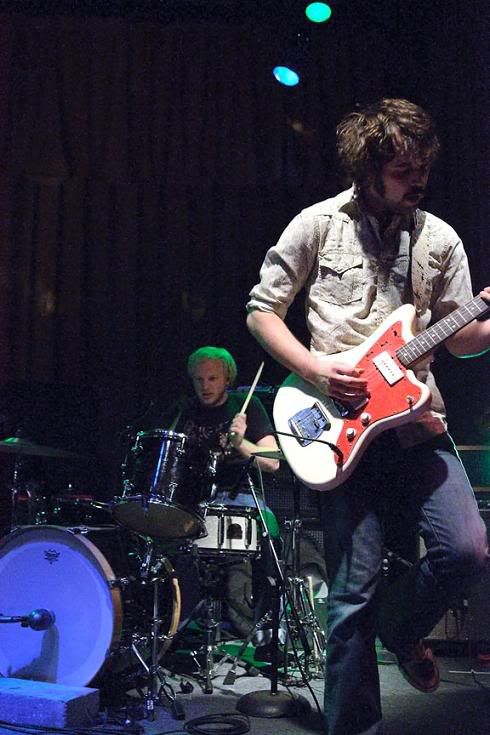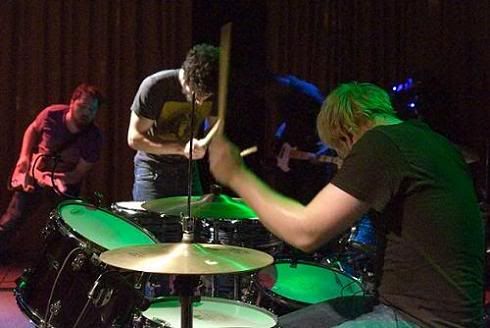 —
Give credit to the Beachland staff and Unsparing Sea for having the foresight and the generosity to open up the Tavern side of the venue for those who paid for Drummer, Other Girls, and Royal Bangs in the Ballroom. Without their good will gesture, many local rock fans would have had to make the difficult choice between the two shows, and may have missed Unsparing Sea's album release.
First evidenced by their 2007 debut, A Cloud in the Cathedral, and reinforced with 2009's follow-up, In the Diamond Caverns, Unsparing Sea have the talent and the ability to be Cleveland's next big thing. Right now, they're one of those things that only people who are hip to such things, thing. With a little luck, and the power of the internet, that may change.
On record, Unsparing Sea come across deliberate, careful, and ruminative, exquisitely arranging their blend of modern folk, never wasting a note. However, Saturday night being a release show, and one week from Halloween, JR Bennett and the rest of the band, exhibited a considerable amount of pep, showing up in costume and giving many of their numbers a bit of an extra kick.
"Sing Devil Sing" and "Sleight of Hand" had the feel of rum infused sea shanties, true to the nautical nature of their name, with punk-trained drummer, Ryan Kelly, accounting for much of that oomph. Similarly, "Here, Here," a nine-minute, quiet drone on record, was transformed into an upbeat stomp, and "Fires, Attics, Etc," hit with the full force of a rock band, not a band whose work garners easy comparisons to indie-popsters like Beirut or Neutral Milk Hotel.
It wasn't all get up and rock out, however. As mentioned earlier, Unsparing Sea have a knack for skilled arrangements, "Held in Light," in particular stood out, thanks in part to In the Diamond Cavern's producer, and one time Six Parts Seven member, Mike Marks, sitting in on banjo, adding precise fills to the off-beats, augmenting Tara Klein's steady cello.
Playing their new record front to back meant that In the Diamond Cavern's closing number, "All I Want," would be the night's closing number, as well. Here, Marks' pedal steel, in concert with backing vocals which echoed the Stones' "Sympathy for the Devil," albeit in a somber sort of way, added depth and sincerity to Bennett's tale of longing. When Bennett sang "Make me cry woo-hoo," it wasn't a cry of joy, but one of put on your happy face and force out some joy. At least on record, that's how it came across. This night, it was real joy, however, the kind which comes from knowing you did your job well, in the studio and on stage.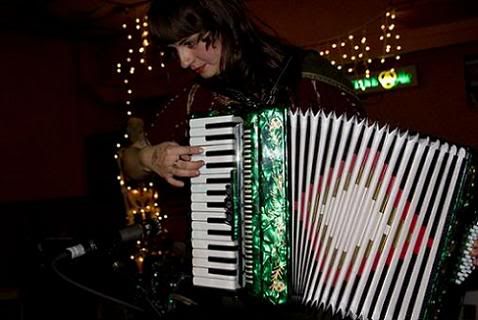 Updated 10.24.09 06:34 PM with one additional photo each of Drummer, Other Girls, and Unsparing Sea.