This past Saturday night, I had the opportunity to attend an open house party at Gotta Groove Records, Cleveland's new vinyl pressing plant, located in the Tyler Building on Superior Avenue, on Cleveland's near East Side, and in between finger foods, beers, and perhaps the best piece of chocolate ever (Those who were there, know exactly which piece of chocolate I'm talking about), I was able to get a quick tour of the facility.
In short, Gotta Groove was nothing like I expected. I suppose had I taken the time to contemplate what it takes to press a record I would have imagined something a but more industrial, but in my fairytale mind, I imagined a magical place, filled with smooth, agile machines, carefully etching grooves on round mats of plastic. Instead, I was greeted to a room of these hulking, brutish things, reclaimed from an era when vinyl was still king and cutting edge technology actually involved cutting.
The controls of each vinyl pressing machine resembled Homer Simpson's station at the Springfield nuclear power plant, with dials and buttons, and a large siren light, supposedly for those times when things go horribly wrong. They operate at extreme temperatures, taking little bits of vinyl and cooking them into a malleable paste. They smash hot vinyl biscuits (Yes, that's what vinyl is called after it is melted and before it goes through the pressing process) with massive force. Gazing at these beastly inventions, it's amazing that something so sweet as a fresh 33, could come from a process so forceful.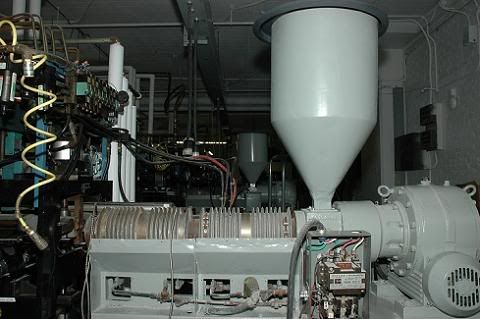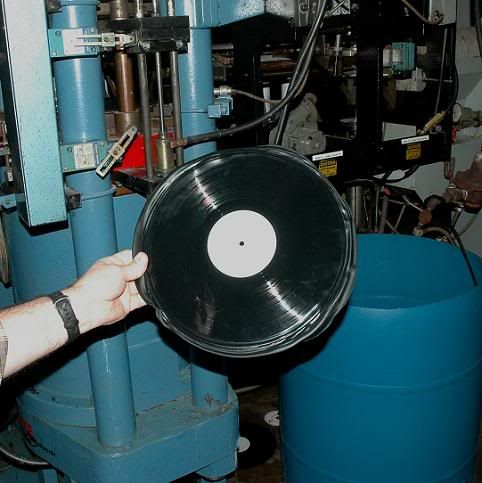 For a complete tutorial on how vinyl is made, I'd suggest these groovy youtube tutorials. Although they document the step-by-step process of vinyl manufacturing quite well, they have all the entertainment value you'd expect from an industrial instructional video — The narrator is sedated with a strong psych drug cocktail and the accompanying music is the audio equivalent of clip art — In other words, they're the farthest thing from entertainment you can find on Youtube.
YOUTUBE: How Vinyl is Made (Part 1)
YOUTUBE: How Vinyl is Made (Part 2)
For more information on Gotta Groove records, including pricing, visit gottagrooverecords.com. Tours are available upon request.
All photos by Jeff Sierputowski.