Before we get to the Top 100 Albums of the Aughties, it may be useful for you to consult this hastily made Venn diagram designed with the aid of MS Paint: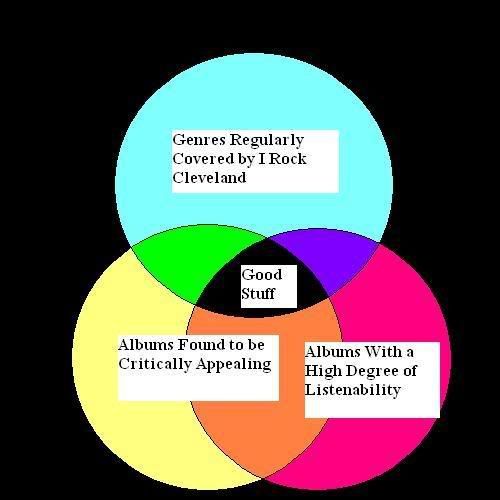 In it you'll see that there were three criteria considered in selecting I Rock Cleveland's Top 100 Albums of the Aughties used in combination with the one implied characteristic all of these albums shared, namely they were released some time between the years of 2000 and 2009.
First, the album had to come from a genre which is usually covered within the pages of I Rock Cleveland. That would include Rock, Indie, and Heavy and would exclude most Pop, Dance, Urban, and Country.
Secondly, the album had to have some measure of critical appeal. This isn't to say that I only listen to music which grades 8 or higher on Pitchfork. On the contrary, I do listen to my fair share of junk. It's just that I'd rather keep those guilty pleasures between me, my maker, and those who engage me in drunken music debates where I'm more likely to extol the virtues of Third Eye Blind, the Josie and the Pussycats soundtrack, and the Free Credit Report Band. Plus, I have more than enough people calling me an a**hole. I don't need to add any fuel to the a**hole fire by including albums which would serve no other purpose than to mess with the minds of those who enjoy leaving a**hole comments. The faux intellectual style of writing employed throughout this post will prick the behinds of the usual a**hole suspects on its own.
Lastly, the work in question had to have a high degree of listenability. What is listenability, you ask? Well, you can think of this highly subjective measure as the musical equivalent of Bud Light's drinkability. Just as some may find Bud Light to be more drinkable than others, a work I find to be highly listenable may not have the same degree of listenability for a different listener. This is to be expected. All I'm saying with this criteria is that the album had to be one which I spent a significant portion of time with during the past decade and one which gave me a certain degree of pleasure.
Now, with our three criteria firmly established, we can get into the meat of the list — Those Rock, Indie, and Heavy albums which were both critically appealing and highly listenable — The Good Stuff. Please feel free to refer back to the hastily made Venn diagram designed with the aid of MS Paint at any time during your perusal of this list. It's there for your help. It'll explain why bands like TV on the Radio, Animal Collective, M.I.A., and Outkast are conspicuously absent in this list when they feature so prominently in similar lists compiled by other publications.
In a decade where everything got so damn serious, it was nice to have an album like The Flaming Lips' Yoshimi Battles the Pink Robots, a concept album where a young woman bravely fends off a fierce invasion of giant, pink robots. I suppose one could listen to The Flaming Lips' fantasy-land metaphorically, and draw parallels between Pink Robots and Al-Quaeda, but why would you do such a think and spoil all the bright, vibrant melodies.
1. The Flaming Lips – Yoshimi Battles the Pink Robots
2. The Strokes – Is This It
3. Wilco – Yankee Hotel Foxtrot
4. Mclusky – Mclusky Do Dallas
5. White Stripes – De Stijl

Escapism has its limits. At some point you have to open your eyes and take a look at what's happening to the world around you. Like many liberals, Ted Leo, looked at Post-9/11 America and didn't particularly like what he saw — War, secrecy, deceit, moral decline — America basically doing everything in its power to eviscerate any and all goodwill bestowed upon itself in the aftermath of 9/11. And to think, Leo's tour de force, "Ballad of the Sin Eater," was written before things really got nasty.
6. My Morning Jacket – It Still Moves
7. Mogwai – Happy Songs for Happy People
8. Spoon – Gimme Fiction
9. The Shins – Oh, Inverted World
10. Ted Leo and the Pharmacists – Hearts of Oak
Of course, the Aughties weren't all serious. You had a band like, British Sea Power, dressing up in vintage military uniforms, adorning the stage in detritus and blasting out post-punk homages to airplanes and glaciers and such. Despite its title, The Decline of British Sea Power remains the band's creative high point.
11. The Mountain Goats – The Sunset Tree
12. Wolf Parade – Apologies to the Queen Mary
13. British Sea Power – The Decline of British Sea Power
14. Interpol – Turn on the Bright Lights
15. …Trail of Dead – Source Tags and Codes
One day we may learn the truth behind the cinematic and idiosyncratic, post-rock soundscapes of Iceland's Sigur Ros and that made up language of theirs. One day we may learn that not only is Hopelandic a made up language without fixed syntax, but every word translates to sweet, fluffy bunny. Until that day, there's much to enjoy about Sigur Ros' Untitled album.
16. Sigur Ros – Untitled
17. The Horrors – Primary Colours
18. Black Mountain – In the Future
19. The Flaming Lips – Embryonic
20. Broken Social Scene – You Forgot It, In People
Welcome to the heavy section of the list with three releases from Southern Lord Records — Earth's The Bees Made Honey in the Lion's Skull, Sunn O)))'s Monoliths and Dimensions, and Smile, the sometimes confounding, always interesting album by Japan's heavy rock heroes, Boris. Admittedly, I didn't know what to make of Smile at first, either — The two very different versions of the album for the Japanese and American markets, the nearly random nature of its track list, with only the album's opening and closing numbers being in their proper home. Then, I learned to look past all of Smile's perceived weaknesses and embrace its dynamic and unpredictable shredding and realized it was pretty damn perfect just the way it was.
21. Arcade Fire – Funeral
22. Earth – The Bees Made Honey in the Lion's Skull
23. Jay Reatard – Blood Visions
24. Sunn O))) – Monoliths and Dimensions
25. The Black Angels – Passover
26. Boris – Smile
27. The Thermals – The Body, The Blood, The Machine
28. The Exploding Hearts – Guitar Romantic
29. Postal Service – Give Up
30. The Walkmen – Bows + Arrows

If you have any doubt that the Aughties were a decade to serious for its britches, one only need to look at the critical backlash given Vampire Weekend's debut album. Here you had an indelible pop album produced by a group of recent college grads that incited a pissing match between white, middle-class music critics over whether Vampire Weekend were too white and too middle class to be augmenting their songs with light splashes of world music. How dare they flaunt their middle-classedness in the faces of those who refuse to admit they're middle-class, too. Lost in all the whose to white to be making music argument was the fact that not all of the members of Vampire Weekend are white. But they do iron their shirts and their clothes don't come from thrift stores, so that has to mean something, right?
31. Spoon – Ga Ga Ga Ga Ga
32. White Stripes – White Blood Cells
33. The Constantines – Shine a Light
34. Yo La Tengo – Popular Songs
35. Nick Cave and the Bad Seeds – Dig Lazarus Dig
36. Ryan Adams – Heartbreaker
37. Queens of the Stone Age – Songs for the Deaf
38. Okkervil River – Black Sheep Boy
39. Peter, Bjorn and John – Writer's Block
40. Vampire Weekend – Vampire Weekend

You've heard of Radiohead, right? You know that band of shy, forward-thinking Englishmen who could record the sound of a thousand toilets flushing and still be placed upon a throne. Well, Kid A may not have been the sound of a thousand flushes, but it wasn't exactly accessible, either. And that was the joy of Kid A — Trying to make sense of a record which had all the feel of an album recorded for the explicit purpose to ensure the band would not become any more popular than they already were. We all know how that worked out. Kid A was universally praised and Radiohead are arguably the biggest underground band in all the land.
41. No Age – Weirdo Rippers
42. Eddy Current Suppression Ring – Primary Colours
43. New Pornographers – Electric Version
44. Parts and Labor – Mapmaker
45. Black Rebel Motorcycle Club – Black Rebel Motorcycle Club
46. Arctic Monkeys – Whatever People Say I Am, That What I'm Not
47. The National – Aligator
48. Sleep – Dopesmoker
49. Radiohead – Kid A
50. Six Parts Seven – Casually Smashed to Pieces

…And welcome to the Ohio section of the Aughties' best. Cincinnati (Wussy), Akron (The Black Keys), Kent (Party of Helicopters), Columbus (Times New Viking), and Cleveland (The Dreadful Yawns and Unsparing Sea) are all represented between 51 and 75.
51. Wussy – Funeral Dress
52. The Cribs – Men's Need, Women's Needs, Whatever
53. Spoon – Girls Can Tell
54. Sloan – Never Hear the End of It
55. Fucked Up – The Chemistry of Common Life
56. The Black Keys – Rubber Factory
57. Boris – Akuma No Uta
58. Green Day – American Idiot
59. The Dutchess and the Duke – She's the Dutchess, He's the Duke
60. Party of Helicopters – Please Believe It
61. Grinderman – Grinderman
62. Mission of Burma – The Obliterati
63. Gowns – Red State
64. Times New Viking – Rip it Off
65. Gentleman Jesse and His Men – Gentleman Jesse
66. Wilco – A Ghost is Born
67. Franz Ferdinand – Franz Ferdinand
68. Yeah Yeah Yeahs – Fever to Tell
69. Om – Pilgrimage
70. Phosphorescent – Pride
71. The Dreadful Yawns – Take Shape
72. Modest Mouse – The Moon and Antarctica
73. The Drones – Wait Long by the River and Your Enemies Will Float By
74. Dinosaur, Jr – Farm
75. Unsparing Sea – A Cloud in the Cathedral
Perhaps, the toughest portion of this list was deciding who to include and who to omit between 76 and 100. On a different day, this section of the list could look drastically different. I could have put in a couple hip-hop picks to make myself look not so white. I could have forgiven Death Cab for Cutie for leading the listless Indie Brigade. I could have acknowledged the existence of early Aughties emo. I could have strayed from my hastily made Venn diagram designed with the aid of MS Paint, and included albums which would have made me look more well-rounded, but they would have been albums which I didn't actually listen to a whole lot, and I couldn't have done that in good conscience. I could have done a lot of things with this section of the list, but I decided to include many of my favorites from the past decade which have been overlooked by others — Cleveland's Uptown Sinclair, Cobra Verde, Prisonshake, and Trouble Books, The Detroit Cobras, Ladyhawk, and that second Strokes album which, believe me, is a lot better than you remember it being. I'm happy with my decision.

76. Radiohead – Amnesiac
77. Two Gallants – The Throes
78. The Detroit Cobras – Baby
79. Bright Eyes – Lifted, Or the Story is in The Soil
80. Uptown Sinclair – Uptown Sinclair
81. Spiritualized – Songs in A & E
82. Secret Machines – Now Here is Nowhere
83. Ladyhawk – Ladyhawk
84. No Age – Nouns
85. Jay Reatard – Matador Singles
86. Godspeed! You Black Emperor – Lift Your Skinny Fists to Heaven
87. Deerhunter – Microcastle
88. Eddy Current Suppression Ring – Eddy Current Suppression Ring
89. Prisonshake – Dirty Moons
90. Blitzen Trapper – Wild Mountain Nation
91. Jose Gonzalez – Veneer
92. Primal Scream – XTRMNTR
93. Neko Case – Blacklisted
94. The Strokes – Room on Fire
95. Two Cow Garage – III
96. Cobra Verde – Easy Listening
97. Andrew WK – I Get Wet
98. The Hold Steady – Separation Sunday
99. Trouble Books – United Colors Of…
100. Godspeed, You Black Emperor – Yanqui U.X.O.